If you've been homeschooling for any length of time, you most likely have heard of The Old Schoolhouse Magazine, a free online bi-monthly publication packed full of homeschool encouragement, curriculum options and reviews, and so much more.
The Old Schoolhouse team have created a comprehensive online resource, SchoolhouseTeachers.com, which hosts over 50 expert teachers in one place, bringing homeschoolers a wealth of opportunities to extend their family's learning.
The lesson plans can be used as your family's core homeschool curriculum or there are a variety of options for all ages and levels, from Pre-K through to High School, to supplement your existing program.  Access is provided via a Monthly Membership or Yearly Membership Option (the latter of which locks in the annual rate).
What's Available
The site contains daily, weekly, and monthly lessons, with more than 50 courses of both core lessons and electives.   The subjects taught range from Math, Science, Writing and Geography, to Social Justice, Sewing, Music, Classical Archaeology and French.  Find the full list of subjects for each level here:
Here are just a sampling of courses that I'm so looking forward to bringing into our homeschool this coming year:
Geography with Terri Johnson of ('Knowledge Quest'). 
Discover the Holy Land, St Patrick, Industrial England, Ancient Greece, New Zealand country study, and others.
Art techniques from Brenda Ellis (of 'ARTistic Pursuits')


Step-by-step instructions on chalk pastel drawing, pencil drawing, watercolours, and tonal techniques, just to name a few.



Asia Safari with Bonnie Rose Hudson (of 'Write Bonnie Rose')


Discover some of the different regions and cultures of Asia using writing, art, geography, safari science, and other hands-on activities, and find ways to help and pray for the different people groups on your travels.



Charlotte Mason homeschooling with Cindy West (of 'Our Journey Westward')


Archived lessons on habit training, artist study, nature study, living math, and others.



Figures in History with Cathy Diez-Luckie (publisher at 'Figures in Motion')
Learn historical figures via the engaging text, hands-on activities, and creatively-presented writing assignments.

Classical History with Jennifer Courtney (of 'Classical Conversations'):
Journey through 3,000 years of Ancient History, and learn the cultural and historical context of the bible through studying the rise and fall of ancient empires.
Lapbooking with Kim Bellotto (of 'In the Hands of a Child')


Buckingham Palace, photography, Christmas, The Giant Panda, Tarantulas, The Happy Prince, the Bengal Tiger …  a wealth of beautifully written and presented lapbooks.



Site Navigation
Initially I was slightly overwhelmed by the sheer volume of information and lesson options, but found the 'Site Content' page helpful as a starting point for navigating the site.  There is also a brief site tour to watch which I recommend taking a look at.
Some Highlights
I was impressed with the ease of use of the website, and the concise and thorough way in which the lesson plans were written and presented.
One particular section I enjoyed was the 'Dalies', which is the daily unit study area for many subjects (organised in one place for quick and easy access).
The units that instantly appealed to me for our family were, Everyday Copywork; Everyday Explorers: Australia and New Zealand; Ditch the Desk: Hands on K-5; and Everyday Epistles. The unit Pre-K Activities 'Read and Play' used books we enjoy ourselves – Peter Rabbit, Corduroy, The Little Engine that Could, and others – and had themed activities and games to enjoy with these titles.  I'll be re-visiting this section when our school year resumes early next year.
'Sensory Learning for Toddlers' Course
We are in the last week of our school year here in New Zealand before taking a break for the summer, so I decided to try something light and fun to do with my youngest two (ages 2 and 4 ½).
I decided on 'Sensory Learning for Toddlers', as I liked the sound of including both my youngest two children in one lesson.  Learning time with three young ones is somewhat of a juggling act, and so anything I can do with both my toddler and preschooler together is perfect – extended one-on-one learning times are not always possible!
For this week, the lesson was learning the letter K – "K is for Kitchen"
The course notes were easily laid out, so I simply printed the 2 pages, had a read over the night before, and planned out what I was going to do.  It only took about 5 minutes to pull some books off the shelf, plan a cookie recipe, make sure I had the right things in my pantry that we'd be mixing, and draw around a few kitchen utensils.  For my preschooler, I printed off some 'K' worksheets provided in the course notes.
We had a lot of fun together doing 'K' activities including a utensil hunt, learning what dissolves in the kitchen, making cookies, and reading our kitchen-themed books together.  I enjoyed watching my children discover and play.  My reluctant preschooler was asking to do more, which I was thrilled about.  I see more and more that recycling the curriculum I used with my eldest child is not going to work perfectly for her – she really is such a hands-on, abstract thinking, out-of-the-box child.  I especially liked the flexibility of this lesson plan to accommodate my two different children, and we'll be doing more of these lessons again soon.
Membership Extras
SchoolhouseTeachers.com also offers the following to members: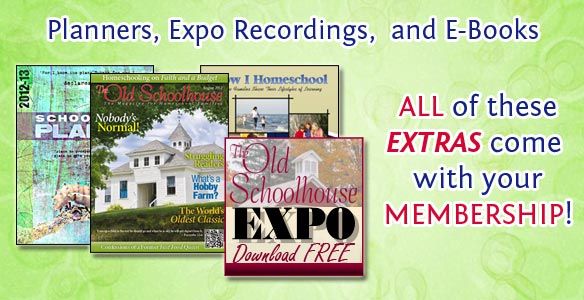 In Conclusion
The sheer volume and quality of resources is staggering.  I've spent hours looking and still I feel like I've barely scratched the surface.  There is something here for everyone.  The course content caters for the different homeschooling methods, all ages from preschoolers to high school, and it is flexible enough to customise to your particular homeschool.
At $3 for the first month, and a very affordable $12.95 for each month thereafter, this is fantastic value for access to a vast array of resources for your whole family.  If you sign up for a yearly membership, you receive an additional 10% off and pay $139.  Currently SchoolhouseTeachers.com has a December special to buy one Yearly Membership, and get one free for a friend.
Take a look at the samples pages, and brief introductory video. and considering adding SchoolhouseTeachers.com into your homeschool,
I'm not even close to covering everything on SchoolhouseTeachers.com in this review.  So I encourage you to visit some of the other Crew Reviews for a sampling of what else is available.